so...i found these cute little buckets in the dollar spot at target...and the wheels started turning...i wanted to do a topiary...but not your ordinary one...i grabbed a bath scrubbie and started to create!...now...i filled the bucket up with bath confetti...but you can put whatever in it!...candy, bath salts, anything you can think of!...topped this little cutie off with a butterfly from the give a hoot cart...but again...whatever you want to slap on there...got for it!...
wanna know how it's done?...well...here's a tutorial that i whipped up...
you'll need...
wooden dowel cut at 9"
ribbon to cover dowel...or paint it...whichever is easiest...
empty cardboard ribbon thingie (sorry for the technical term...lol)
ribbon for bow
whatever goodies to fill bucket...
embellies to make it look purty
bucket...i know this isn't the one in the rest of the tutorial...had to take a pic afterwards...so think of this as a stunt bucket...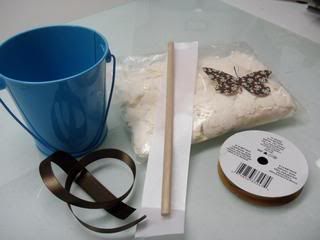 you also need:
heat gun
oops...forgot the shrink wrap...but you'll need that or cello
glue gun
bath scrubbie
plastic wrap, paper towels, or whatever to use as a pre filler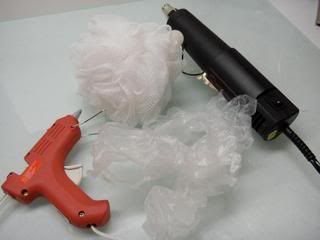 first you want to prep the wooden dowel...i covered with ribbon...but you can certainly paint it...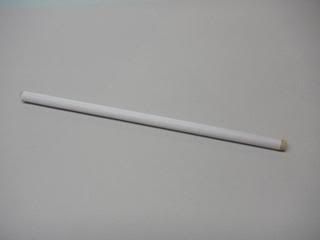 next..you'll want to take empty ribbon thingie and hot glue the dowel into the hole...i actually do this when it's inside the bucket...just push the ribbon thingie as far down as it'll go...then insert the dowel...make sure it's straight and hot glue away...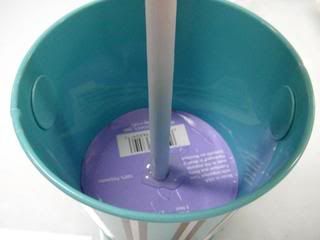 then...you'll want to take either your saran wrap or whatever you're using to kinda fill in before adding your goodies...you know...something to take up space...other than our husbands!...ohhh...sorry...i just had to...
now it's time to add the goodies...like i said...i used bath confetti...but sky's the limit on what you want to use...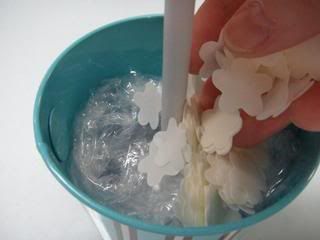 fill all the way to the top...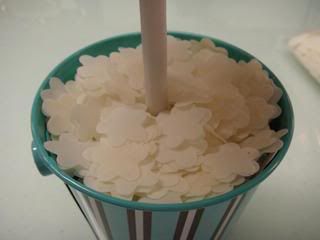 here's what you should have...a headless topiary...nevermind the mess...just focus on the project...hee hee...
now you'll take your shrink wrap...making sure that it'll cover the sides of the bucket all the way to underneath it...find the center of it...and cut a tiny circle...just big enough to fit around the dowel...i folded it in half...used a hole punch...and then trimmed a little bit more to get the size i needed...slip the dowel through the hole and slide all the way until it's flat on the confetti...
this is the point where you'll take all the shrink wrap and smooth down the sides of the bucket and tape underneath...then you'll take your heat gun and shrink away...but you can certainly use cello for another look!...you'll just cut a square big enough...gather up and tie!...now this pic is post shrinking...but you can see how it's taped underneath...only heat up the sides and top...don't worry about the bottom...if it's not sitting level...then maybe hit it with some heat...
take your bath scrubbie and put on top of dowel...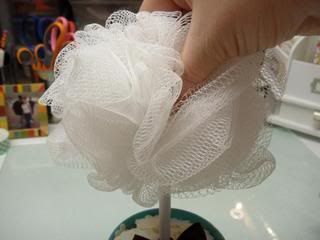 add your butterfly (woah...where'd his antennae go?) and bow at base and you're done!...
***like i said before...anything is interchangeable with the project!...i just wanted to keep with a bath type theme...so that's why i used the confetti...also...i mentioned that you can you cello to wrap it up...since the bow's at the base (cleverly disguises the hole) it's nothing to have it gathered up with a bow!...let me know if you have any questions!...or if my directions were crappy!...